Holy Apparition Appears on Wall
Published in "Top Tips for Winning at Capitalism"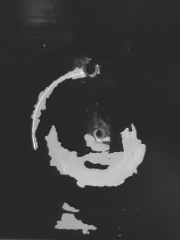 Traditionally, during the day of a local football derby, retail stores across the country are quiet. However, things changed on the first Sunday of April when a large crowd appeared at a shopping centre during the afternoon, begging for a chance to see whether a rumour was true.
Ned's Non-Essentials has made headlines across the country when one colleague said they had found the face of a holy figure marked on to the wooden panelling on a wall. The peculiar apparition has been described by many die-hard local residents as a "miracle", with one person in particular stating, "It's a sign that our store should not shut."
Who is the mysterious face that is believed to have appeared on the wall? None other than Bee Gee Maurice Gibb, who died nearly twenty years ago.
One sceptic said the mark was "Nonsensical, and that the colleague should stop slacking and get back to work", but this pessimism does not seem to have made any difference to the determination of shop workers and fans of the famous group.
Not swayed by his critics, Angus Kilton, leader of the band's Scottish fan club The BGGGs (formerly known as The Bee Gees and Gary Glitter Club) said "This proves that the spirit of Maurice will always stay alive."